NOVABARRIER
NovaBarrier is a new, environmentally friendly,totally recyclable barrier.This barrier can be applied to carriers, starting from 50/60g paper, up to 400g boards. The barrier is approved for direct food contact
NOVABEST
NovaBest is a gummed gloss coated paper mainly used for banderols. The gumming is water activated with high initial tack for use in manual and automatic tape dispensers. It provides high levels of precision and economy.
NOVASTAMP
Artinova offers a wide range of PVA gummed stamp paper. Uncoated and coated grades, base paper with security features such as visible/invisible fibres and watermarks. ㅤㅤㅤㅤㅤㅤㅤㅤㅤㅤㅤㅤㅤㅤㅤㅤㅤㅤㅤㅤㅤ
NovaMulch Paper
NovaMulch Paper is an evironmentally friendly soil cover for farming and gardening. NovaMulch paper has been developed to offer decisive advantages:
– Prevents weed.
– Enhances growth due to the microporosity.
– Biodegradeable. Designed to decompose after 1 growing cycle, approx. 3
months.
– Easy to apply. Can be applied also by tractor.
– Breathes and keeps the soil porous.
– Keeps the soil humid.
– Produced from renewable and sustainable materials.
NOVAFIX
Artinova's PVA gummed paper is suitable for both simple and sophisticated applications. You find NovaFix in use as address and reel labels, promotional and tax stamps, product decoration and identification, bottle labels and picture framing. Gummed paper is an environmentally friendly and economic alternative. The paper adheres well to paper, cardboard, corrugated board, wood and glass. NovaFix is a paper that is water activated in room temperature NovaFix can be delivered in sheets and reels suitable for your needs.
NovaFix options offered upon request:
– Colours
– Grammage
– Paper Qualities
– Speciallity designed productions.
​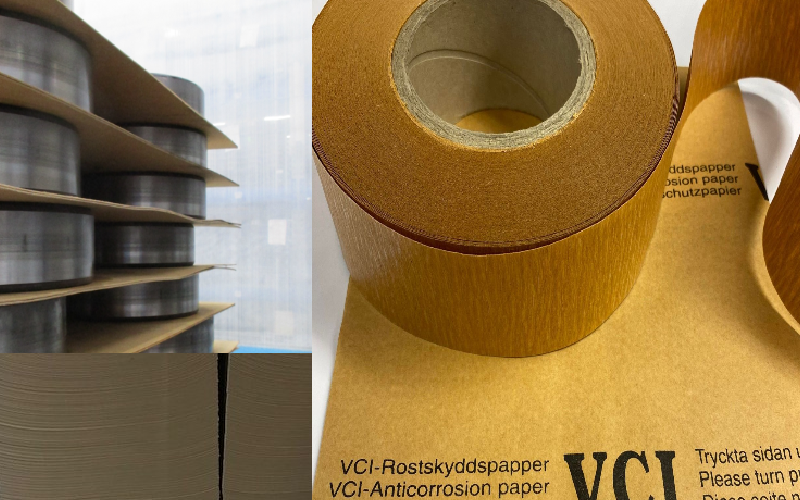 NOVAPROTECT
Corrosion of metal products is a major problem causing large economic losses for engineering industries. To prevent corrosion of products during transportation and storage is therefore of great importance.
The corrosion preventive paper and film is superior to other methods of protection such as oils, grease and painting. NovaProtect combat corrosion by preventing acids and humidity from accelerating energy loss in metallic substances. This is achieved by both contact and volatile inhibitors. The handling of NovaProtect is very easy both in wrapping and in receiving and unwrapping goods, as grease removal or cleansing is unnecessary. NovaProtect protect metals such as iron, steel, aluminium and their alloys against rust.
All NovaProtect products are completely nitrite
free.
NOVASEAL
Artinova offers differnt types of paper qualities for sealing. Cold seal paper such as packaging materials for hard bread packages, medical packaging, frozen food packages sugar lumps and industrial packaging combinations.
Cold sealing is suitable for almost all kinds of base paper. Combinations like cold sealing on PE coated paper, thermo paper and thermo transfer are some examples.
The heat seal qualities that we can supply are PE coated paper and heat seal lacquers. Common endues for heat sealing is packaging material and banderols for bank notes etc.
ㅤㅤㅤㅤㅤㅤㅤㅤㅤㅤㅤㅤㅤㅤㅤㅤㅤㅤㅤㅤㅤㅤㅤㅤㅤㅤㅤㅤㅤㅤㅤㅤ
NOVATAPE
Gummed paper tapes – the environmentally friendly, economical and secure way of packaging.
Gummed paper tapes are mainly used forsealing corrugated boxes and for banderols. The gumming is water activated with high initial tack for use on manual and automatic tape dispensers. It provides high levels of precision and economy. The use of gummed tape grants maximum security as boxes cannot be opened and resealed as with ordinary self- adhesive packaging tapes. Novatape is easy to work with at application stage and when unsealing the box or package.
Artinova manufactures gummed tapes consisting of brown or white MF kraft paper with vegetable gumming. Reinforced tape consists of two layers of kraft paper, which are laminated with glass fibre. The reinforced tape has the highest tearing strength